The first signs of eye disease often appear below the surface of the retina. Vision threatening diseases often have no outward signs or symptoms in the early stages, so Hendrix Eye Care has begun using state-of-the-art technology to assess the health of your eyes. Hendrix Eye Care is happy to provide you with the iWellness Exam, the latest advancement in eye care technology that aids in early detection of eye diseases.
Introducing the iWellness Exam
Our practice is committed to protecting your eye health with the most advanced technology available, and we are excited to announce that our comprehensive eye exam can now be supplemented with the iWellnessExam.
Did you know…
Sight-threatening eye diseases often have no outward signs or symptoms in the early stages.
State-of-the-art technology can help your doctor see early signs of these diseases.
Early detection and treatment of eye disease may reduce your risk of vision loss
Regular iWellness exams can help your doctor detect common eye diseases:
Diabetic Retinopathy
Glaucoma
Macular Degeneration
The iWellnessExam is fast, easy, and comfortable for patients of all ages and gives your doctor valuable information about the health of your eyes and your most precious gift – your sight.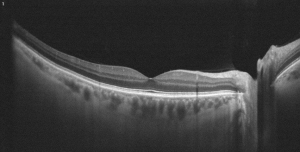 The iWellness Exam is a quick, non-invasive scan that allows doctors to see beneath the surface of your retina. This unique technology can help our doctors detect vision threatening and systemic diseases in their very early stages, when they are most treatable and prevent possible vision loss.
Your eyesight is priceless and we are here to protect it!
The iWellness Exam uses state-of-the-art technology to produce high definition images of the layers of the retina (the inside tissue of the eye that captures images and contains blood vessels and nerve fibers). Often compared to an MRI or CT scan, SD-OCT images provide stunning details of retinal structures that are not visible with other examination techniques or tests. This is important because it enables the doctor to detect very early signs of vision threatening disease, such as glaucoma, macular degeneration, diabetic retinopathy, and others. When diagnosed early, these conditions are easier to treat, slowing progression and often avoiding vision loss.
Many patients believe that if they are not having symptoms or problems with their vision then their eyes are healthy. However, many eye diseases do not have symptoms until the disease starts becoming advanced. Irreversible damage can occur during the early stages of the disease that may have been preventable with early detection. We have invested in this technology so that we can detect diseases as early as possible and make sure that our patients are receiving the best possible care.
If you choose, our technician will perform the iWellness Exam, which your doctor will review with you during your examination. Any questions you have about iWellness Exam and the results of the test can be discussed with the doctor during your examination.
The iWellness Exam is non-invasive and can be performed quickly and easily as an initial first step in a routine comprehensive eye examination. The images produced provide a view of the retinal layers that enable the doctor to identify very early signs of disease, or confirm the patient's ocular health. Early detection of retinal abnormalities and disease may lead to earlier and safer treatments and in many cases prevent or slow the progression of vision loss. The iWellness Exam is recommended annually for patients over the age of 40 regardless of symptoms, thereby allowing the doctor to observe any subtle changes occurring over time. The iWellness Exam is not covered by most insurances.
Early detection of eye disease may prevent vision loss. Schedule your iWellness Exam today!
Our Locations

321-383-1332
1917 Knox McRae Dr
Titusville, FL 32780

321-783-2002
5505 North Atlantic Avenue Suite 105
Cocoa Beach, FL 32931
Business Hours:
Monday: 8am - 5pm
Tuesday: 8am - 5pm
Wednesday: 8am - 5pm
Thursday: 8am - 5pm
Friday: 8am - 5pm
Saturday: Closed
Sunday: Closed